At Scarcliffe Primary School, we value the views of our pupils. One way in which we gather their views and ideas is by having a school council. The president and vice president were voted for by the pupils in a democratic voting system. They then advertised the roles that were available in school and interviews took place to get the right people for each role.
Meet our School Councillors: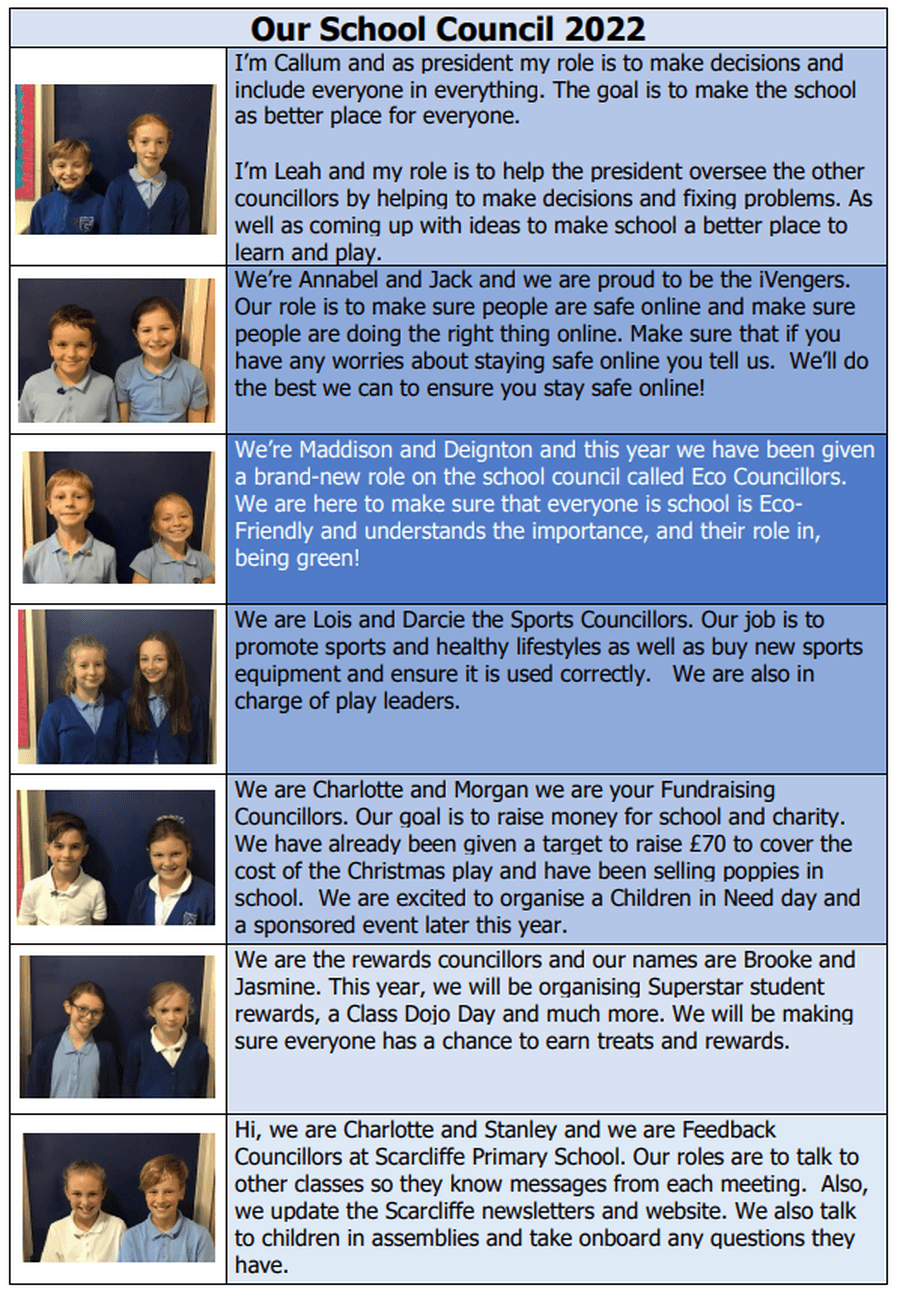 Democratic Vote:
In order to choose our School Council President and Vice President, we held and election in school. All candidates had a week to put a campaign together and delivered speeches to the rest of the children in a special assembly.
After counting the votes we found out that Callum and Leah were chosen for the roles.
Following the vote, it was time to advertise for the roles we needed filling.
Callum and Leah then interviewed the candidates based on their application forms and appointed the new school council.
SCHOOL COUNCIL NEWSLETTER
By Stanley and Charlotte
School Charity:
Every year we set ourselves the target to raise money for school and charities. In recent years, we managed to raise a staggering £1214.69 for Ashgate Hospice and over £1000 for Macmillan Cancer Support! Well done to the children who organised the events and the school community for their support.
Children in Need:
Soon we will be taking part in Children in Need day. Morgan and Charlotte will have the job to make the day fun and memorable while making money for the charity.
Progress made this year:
We have already met as a school council. The president and vice president explained everyone's roles and allocated each pair a task to complete before the next meeting.
Update by Communication Councillors (November 2022)
The rewards councillors are currently organising a system for superstar students and have informed staff about plans for their treat this term.
Our sports councillors have been working hard sorting out the play leaders and creating new games at break time.
Thirdly, the fundraisers have been raising money for Children in Need and for the poppy appeal. They also have plans to raise money to cover the cost of the upper school Christmas play.
The eco councillors are aiming to save money and energy around school. They are planning on talking to children and staff - as well as making posters - to share key messages.
The antibullying ambassadors are monitoring the worry boxes and will be speaking to children to get a better understanding of what children think about bullying at our school.
Finally, the iVengers are planning upcoming projects between now and the end of the year. They are currently working with the communication councillors to create a letter to inform parents and children about staying safe online.